About Ozono Air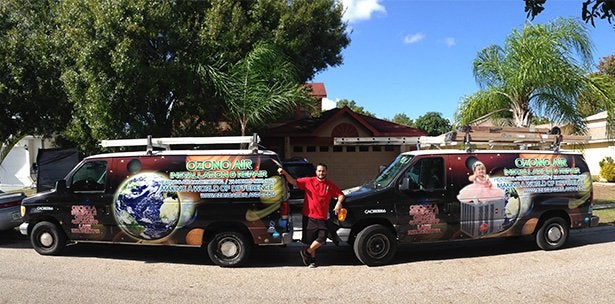 Orlando Air Conditioning & Heating Company
For the past 22 years, Ozono Air has provided exceptional heating and air conditioning services throughout the Orlando metro area. We are a customer-oriented company, working hard to take care of all your HVAC needs. Whether you need regular repairs or a brand new air conditioning unit installed, our technicians are ready to help. Your complete customer satisfaction is our number one priority, making us one of the top air conditioning and heating repair companies in Orlando. We received A+ ratings from the Better Business Bureau and are a member of the competitive Orlando Predators Business Club.
Company president Mario D. Rendon, is a highly dedicated worker and businessman. He makes sure to always offer honest services and affordable prices, no matter what kind of repairs are performed.
Honest & Dependable Service
At Ozono Air, we care about you and your family's comfort, which is why we offer 24 hour emergency service. We are always available to fix any air conditioning or heating problems you are having. We also a wide range of other services, including:
We are also available for commercial air conditioning and heating services, taking care of any maintenance work or repairs your business needs. Why wait any longer to schedule the HVAC services you need? You can always call for a free installation estimate before we start the job! Contact Ozono Air today at (321) 231-1079 to start discussing your air conditioning and heating concerns.
WHY CHOOSE US?
A+ Rated with the Better Business Bureau
Family Owned and Operated Since 2001
Full Service Air Conditioning Repair & Installation
24/7 Emergency Service Available
Fast, Reliable, Honest